At The Lewiston Roundup
The Lewiston Roundup: "Tough Enough to Wear Pink" is a major fund-raising event for the foundation.
The 2017 Lewiston Roundup Tough Enough to Wear Pink night is Friday, September 8th. Be sure to wear your GQ Tough Enough shirt to the Roundup on Pink Friday to support the Gina Quesenberry Foundation.
Shirts will be sold online and at the Pink Barn this year. Online orders will be available for pickup at Dean Roy's office located at:
1024 16th Avenue Suite C,
Lewiston, ID 83501
Get Directions
Monday-Friday 7:30am-5:30pm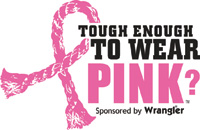 If you or your company would like to purchase merchandise before the 28th, please use the online store Any questions regarding orders, please call Mandi at 1-460-690-6080.
Pink Barn Schedule
The Pink Barn will be open starting Monday, August 28th from 10am-6pm. Please note: It will be closed September 2,3,4. Sorry for the inconvenience. On September 8, the barn will be moved to the Roundup grounds.
For more information on the Lewiston Roundup or to buy tickets please visit lewistonroundup.com .