At The Lewiston Roundup
The Lewiston Roundup: "Tough Enough to Wear Pink" is a major fund-raising event for the foundation.
The 2019 Lewiston Roundup Tough Enough to Wear Pink night is Friday, September 6th. Be sure to wear your GQ Tough Enough shirt to the Roundup on Pink Friday to support the Gina Quesenberry Foundation.
Shirts will be sold inside Harley Davidson on 21st Street.  Shirts will also be sold at the rodeo on Friday September 6th.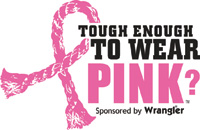 For more information on the Lewiston Roundup or to buy tickets please visit lewistonroundup.com .