At The Lewiston Roundup
The Lewiston Roundup: "Tough Enough to Wear Pink" is a major fund-raising event for the foundation.
The 2018 Lewiston Roundup Tough Enough to Wear Pink night is Friday, September 7th. Be sure to wear your GQ Tough Enough shirt to the Roundup on Pink Friday to support the Gina Quesenberry Foundation.
The pink barn will be open at North 40 starting September 4th from 10 am- 6 pm.  If you are a business and you are interested in having the pink barn come to your business, please email mandi@gqfoundation.org.
Theme:  Our theme this year is "retro".  We are having a throw back year to celebrate all the years of Tough Enough.  All retro pink shirts will be $5.00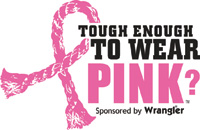 For more information on the Lewiston Roundup or to buy tickets please visit lewistonroundup.com .