Tough Enough to Wear Pink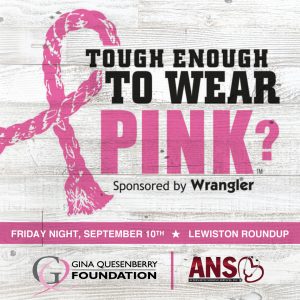 GQ Tough Enough To Wear Pink Shirts will be sold for $20 at the following locations starting August 1st: 
Hells Canyon Harley Davidson: 306 21st Street Lewiston, Idaho 
Keller Williams-Lewiston: 514 Thain Lewiston, Idaho 
Tough Enough To Wear Pink was started by Terry Wheatley, a breast cancer survivor, and Karl Stressman, now PRCA Commissioner, along with Wrangler. They put their heads together to think of a way to make a difference. TETWP proceeds go to local cancer programs so they can assist in providing financial and emotional assistance to local cancer patients in need. On Friday, September 10th the Lewiston Roundup Association donates $1 for every person that wears PINK!
For more information on the Lewiston Roundup or to buy tickets please visit: lewistonroundup.com